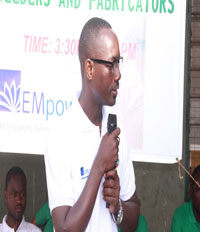 Mr. A. A. Iddi holds a BA. in Integrated Development Studies (IDS) with concentration in Social and Development Administration and Master's in Philosophy in Development Studies from the University for Development Studies (UDS) Wa Campus. He is a founding member of NOYED-Ghana and has been the Executive Director since its inception in 2005. A trailblazer at heart, Iddi led many leadership teams throughout his youth and school days. Most outstanding among these leadership roles are;
President of the Student Representative Council (SRC) at the University for Development Studies, Wa Campus.
Secretary to the Judiciary Board of Graduate Students Association, UDS central.
SRC Representative on the Third Trimester Field Practical's Programme Board (TTFPP) for 2 years at UDS.
Assistant Collage Secretary, Tamale Training Collage.
Northern Regional Youth Wing Coordinator of the Ghana United Nations Students and Youth Associations (GUNSA)
Zonal Leader, Zone 'D' of the Ghana Red Cross Society.
He is committed to NOYED-Ghana's vision and endeavours to create long lasting partnerships. These partnerships would be with local, national, and international organizations alike, businesses and individuals. He hopes these relationships prove successful in increasing the impact and influence of programmes and campaigns being delivered to communities in Ghana particularly in the north. Beyond mainstream education, he has also undertaken and participated in series of courses and workshops both locally and internationally to deepen his credentials and capacity to delivery on the organizational mandate. He has successfully managed relationships and projects with major partners such as Voluntary Service Overseas (VSO), EMpower; the Emerging Market Foundation Limited to mention but a few. Mr. A.A. Iddi has been involved with aid and development sectors for more than a decade now and through his work with NGOs, he feels his involvement with NOYED-Ghana is a lifestyle rather than a source of livelihood.
Comments are closed.